There is plenty to enjoy during winter in Wabasha!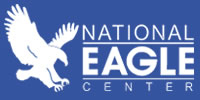 The National Eagle Center is open again with new restrictions. Please make sure to check their website so you understand how visitors can enjoy the live eagles and programs. Check out our "Local Attractions" page for more information. For those interested in photographing wild eagles – you will have many chances to get some outstanding photos! I think they like having their picture taken!! You will see amazing numbers of eagles!
Restaurants in the Wabasha area are again open for indoor dining with COVID safety rules in place. Some require reservations, masks, some will offer online takeout ordering, etc., so it is not a bad idea to check out their websites or call prior to arriving. Check out our "Local Dining" page for information and links.)
Avoid disappointment by checking all restaurant, event, and attraction websites as nothing is as convenient or easy as it was in the past…
Our rooms are super sanitized and cleaned – as they always have been. Every precaution has been taken to ensure our guest's safety.
The COVID epidemic has changed our lives in many ways. One very positive thing that has happened is that people are getting outdoors and experiencing the many winter activities in the area! "Open Air Therapy" activities:
Ice fishing on the Mississippi River is a very popular activity. Bring your equipment and plan on catching lots of fish!!
The Wabasha area has extensive snowmobiling trails. We have the maps, just make sure to call ahead to make sure we have the snow!
Coffee Mill Ski area has a 425 foot vertical drop, diverse terrain, no lift lines, and three terrain parks. It is a quality ski and snowboard experience.
Wabasha has a community ice skating rink with a warming house. The nearby hockey rink is where you and your friends can strike up a fun game of hockey or broomball!
Hiking, snowshoeing, and cross country skiing opportunities are many – just a 5 mile hike around town or go to one of the nearby state parks or state management units for a more intense hike or cross country ski experience. Tell us your interests and we can then point you in the right direction.
Wabasha is perfectly located to take a drive around the lake – from Wabasha to Red Wing, cross the river and come back down the WI side of the river…or go south to Winona, cross the river and come back up the WI side of the river. Either way, there are many quaint small towns to explore, beautiful scenery to take in, and unique people to meet!
And last but not least… come stay at Big River Resort and have a winter campfire! After enjoying your day in Wabasha, come and sit around a winter campfire, roast marshmallows, have some warm drinks, and reflect upon how fortunate we are – a personal little gratitude session that can be shared or not!